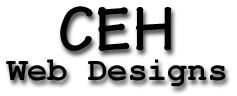 Menu

Quick Links
Mission Statement:
CEH Web Designs is your all in one answer to getting your company or organization on the web. With the most flexible pricing in the business, coupled with our personal attention and years of experience, CEH Web Designs will not be beat.
We are an all-in-one stop for creating a web presence for your business, school, organization, or personal needs. We offer e-commerce solutions, custom cgi scripting, and search engine registration to mention only a few.
Please look in the Design Section for a complete listing of products.
Current News:
May 27 / 2001
Re-tweaking navagation menu for cross browser simularity and same surf feel. Still no luck in service provider that will fulfill my needs.
May 26 / 2001
Looking for a service provider ..... never an easy task :-)
May 25 / 2001
Basic Layout complete. Just filling in the blanks.
Old New Archive .